India's #1 GST Accounting Software | GST Billing Software, Surat
India's Leading and Surat well-known GenAcc GST Accounting Software & GST Billing Software is an integrated software that helps client to manage and administer his/her business without hassle. GST Accounts Software can manage your business financial needs and keeps you GST compliant, automates business workflows, and helps you work collectively across departments.
With latest improvements and advancement in GST Laws , we strive to keep our accounting software updated as per Latest GST norms. Our Latest updated features are:
Generate all GSTR Reports without error.
GST Auto Entry.
E-way bill generation.
GST Auto data fetch from GST Portal.
Generate Quick Reports, Invoices , Vouchers on the go
Send SMS invoices / Email .
WhatsApp Reporting
Bank Reconciliation
Be GST Ready with India's leading and Surat's well known  GST Accounting Software & GST Billing Software .
What makes Yewtec GenAcc GST Accounting Software the best in Surat ?
Key Features
Receive Money or Pay Money. Get all your expenses in one place and get complete detailed reports like:
Sales/Purchase/Expense Register
Sales/Purchase Return Register
Sales/Purchase Summary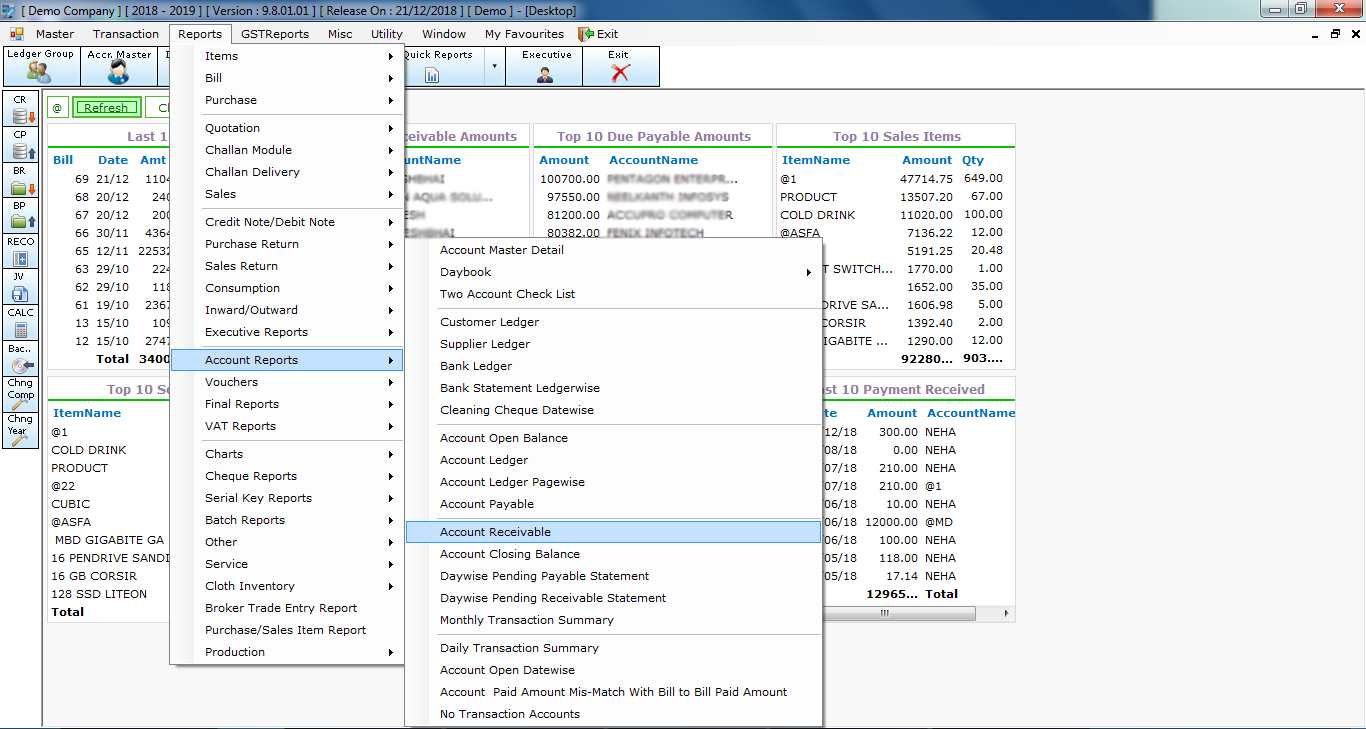 Get detailed reports/ summary about all your Receivables, Payable amount and details about all your credit and debit. Keep the money flowing in with GenAcc. Send estimates, convert to invoices, and on time.
Receivables & Payables
Ledger Book
Outstanding Statement
Bill wise Ledger
Payment Received Statement
Balance Listing
Trial Balance
Balance Sheet
Profit & Loss Account Statement
Bank Reconciliation
Ageing Analysis
Broker/Agent/Area wise reports
Capture the goods and services you offer and quickly add them to your Stock. Keep track of inventory levels at all times. Set reorders point and replenish stock when it gets low .Organize your inventory with vital information like SKU, cost, and stock on hand.
Stock Ledger
Stock List
Stock Flow
Stock Level Maintenance and Alerts
ABC Analysis
Cost Analysis Day Books: Bank/Cash Book, Petty Cash Book, Journal Book
Debit/Credit Note Register
GenAcc provide 50+ business reports to help you get better insight into your business health. From Profit and Loss statements and Inventory Summary reports to GST reports, Yewtec GenAcc Business Accounting Software offers all the reports required to run your business smoothly Schedule reports and email them to yourself or share them with your team.
Contact Us
We are based in Surat, But we are happy to work with clients from all over the globe. Lets get in touch to discuss you new project. Join the leading team in Web & Software that helps brands build their business.